Saturday January 27th at 12 pm - 3 pm 
This exhibition is supported by the Columbia College Chicago Diane Dammeyer Fellowship in Photographic Arts and Social Issues.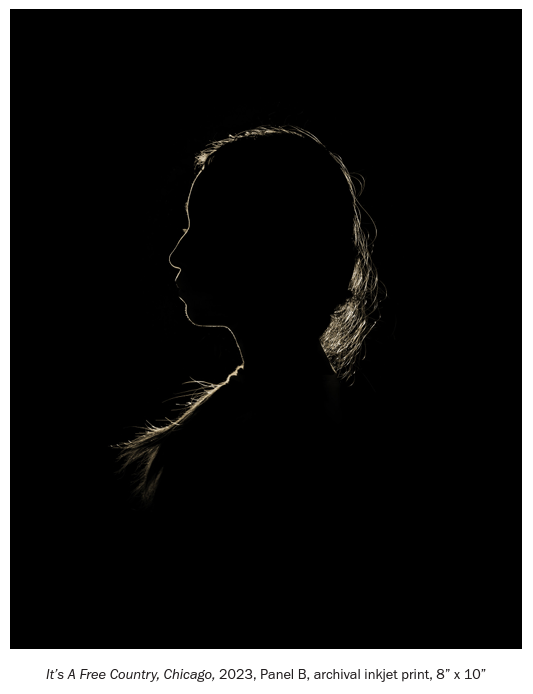 I Am An Eclipse

 is a socially engaged art project led by photographer Dylan Yarbrough and poet Marcela Ossa in conjunction with Centro Romero, a long-standing nonprofit organization supporting the immigrant and refugee community of Chicago. In the creation of this work, members of the Centro Romero community were prompted to write a short composition of creative nonfiction and to sit for a portrait. The resulting artwork is presented as diptychs, with the participant's written composition displayed on the left panel and a silhouette portrait on the right panel. The written pieces encompass a range of styles, including poetry, short stories, testimonials, and reflections centered on the theme of "Eclipse." The photographs, captured from a side view, utilize striking lighting to create a silhouette effect. The silhouette acts as an eclipse, simultaneously revealing and concealing the identity of the subject. The artwork invites viewers to reflect on themes of immigration, community, the power of testimony, and the forces of light and dark. 
Marcela Ossa

 is a Colombian-American singer, actor, poet, and visual artist based in Chicago. She received her bachelor of music in vocal performance from the Chicago College of Performing Arts at Roosevelt University. She is passionate about using the power of music, theater, and art to make meaningful connections with people. In 2021, Ossa debuted her poetry book, Cilantro y Café, published by Allbook Books. 
Dylan Yarbrough

 is a photographer, designer, artist, and educator based in Chicago. He received his MFA in photography from Columbia College Chicago. He currently teaches photography at Columbia College Chicago and The School of the Art Institute of Chicago. His artwork investigates themes of identity, community, place, and well-being. Dylan is the '22–'23 recipient of the Diane Dammeyer Fellowship.